The Technology
The solution can monitor how many people are within the targeted area and display a real-time count. If the capacity of this area is reached, the system's display indicates that no more people should enter.
In it's most economic form, the solution uses a single IP camera and DSS Express software.
The Dahua IPC-HFW5541E-ZE, one of three supported cameras, is a 5MP Pro AI Vari-focal IR Bullet Network Camera, that supports People Counting as well as other AI tasks.
Dahua's DSS Express is an easy to use and reliable VMS, that provides the GUI showing the current status of the people count plus other management reporting for off-line statistical analysis. Download data sheet.
Performance
Regulation compliance - limits number of people
People counting accuracy up to 98%
Real-time alarm
Flexible deployment - easy to install
Bullet Network Camera

IPC-HFW5541E-ZE

Dahua VMS

DSS Express S

Application

PC with DSS Express

OK To Enter

Do Not Enter
IPC-HFW5541E-ZE
1/2.7" 5Megapixel progressive scan CMOS
H.265 & H.264 triple-stream encoding
20 fps@2592 × 1944, 50/60 fps@1080P(1920 × 1080)
WDR (120 dB), Day/Night (ICR), 3D DNR, AWB, AGC, BLC
Multiple network monitoring: Web viewer, CMS (DSS/PSS) & DMSS
2.7 mm–13.5 mm motorized lens
2/1 Alarm in/out, 1/1 audio in/out
Max. IR LEDs Length 50 m
Micro SD memory, IP67, IK10
DSS Express S Video Management System
Supports 256 IP Cameras
Supports 256 Video Intercom Devices
Integrates All Management Functions into One Client
Allows Device Initialization and Management
Live Video Playback from Edge Device
Supports Access Control and Video Intercom Integration
Configure Video Wall Layout and Scheme
Offers Facial Recognition and Search on Live View
PC with DSS Express
Regulation Compliance
High Accuracy - up to 98%
Real-time Alarm
Flexible to Deploy
OK To Enter
24 people have entered
8 people have exited
The area has a limit of 50 ...
...leaving 34 available new entries
STOP ! No Entry
54 people have entered
4 people have exited
The area has a limit of 50 ...
...and is now at full capacity
Application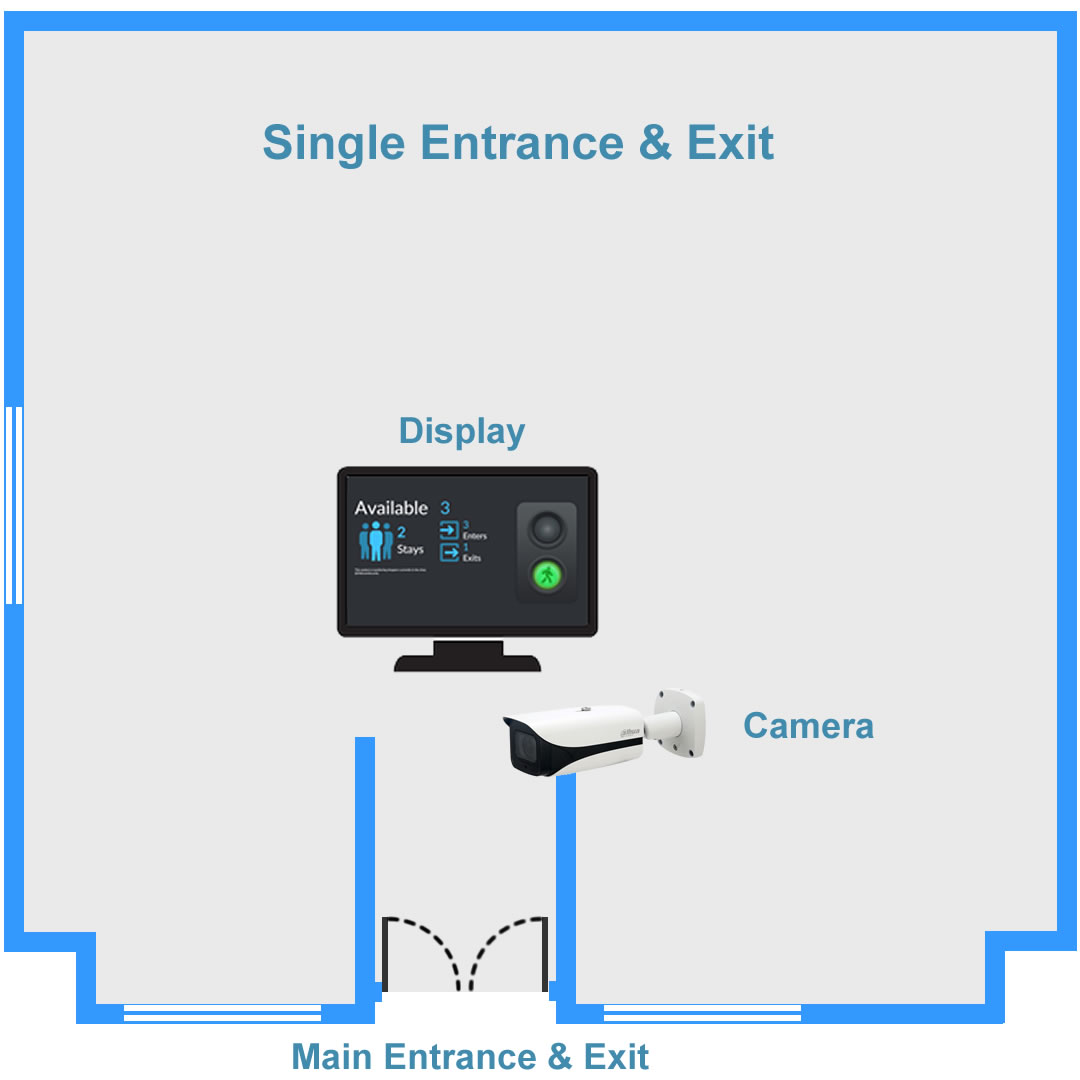 Regulation Compliance: Help to meet the requirement of the latest government regulation to limit the number of occupants
Help reduce the risk of infection by strictly limiting the number of people in the controlled area,
People counting accuracy up to 98%
Real-time Alarm - Warn against entering or show OK to enter