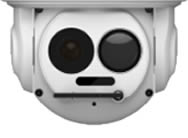 CCTV Camera Overview
With the UK set to launch new security focused standards in the manufacture of CCTV cameras, the UK CCTV market remains a world leader in the development and delivery of safer secure CCTV systems. As a national IP CCTV integrator, we are acutely aware of the risks of a wider connected CCTV world. Through careful design and product choice retaining where possible the "closed circuit" nature of surveillance video Videcom CCTV engineers will ensure your CCTV systems are safe, secure and protected.
CCTV starts with the camera, with the rapid development in high end video compression and high definition TV our CCTV sector has benefited from lower costs and higher definition, we have seen a rapid growth of 4K CCTV with 8K also becoming common place. It is important though to retain some focus on image quality, low light performance, noise within the video image along with quality of lenses, control of moveable cameras and the security of the video data.

Videcom work with most major CCTV manufacturers for example Panasonic, RedVision, Samsung and Dahua, with the Dahua Technology being our recommended brand for the majority of systems we install. Dahua have a full range of HD static and PTZ cameras, Dahua manufacture several series of cameras delivering continuingly more complex functionality enabling delivery of smarter CCTV solutions and all Dahua CCTV cameras come complete with 3 year manufacture backed warranty.