What is a BTM system
A Thermal camera and temperature reference unit (Black Body) work together along with AI to monitor the temperature of persons entering the cameras field of view. If the temperature is abnormal, an alarm is raised for monitoring personnel to determine further action.
The Dahua DH-TPC-BF3221, BF5421, BF2221P Thermal Network Bullet cameras have two image sensors: A thermal imager to provide temperature measurement in the range 30 to 45 °C & and a standard 1080p visible colour CCTV IP camera.
The Black Body is the calibraton device that maintains a constant temperature reference point for the thermal camera, to ensure the thermal camera retains its 0.3°C accuracy.
Dahua's DSS Express Windows software is an easy to use and reliable VMS, that provides the GUI showing thermal & visible images, facial metrics plus management reporting for off-line statistical analysis.
Different versions of thermal camera are now available from the value series 2 lite through to the advanced Pro series 5 for more complex and demanding environments. All systems have the same basic temperature monitoring functionality and utilise the precise black body referencing system. Download data sheet.
For information on the Dahua TMAC Temperature Monitoring/Face Recognition Access Control please click here.
Bullet Network Thermal Camera

DH-TPC-BF5421-TE

Black Body Reference

DH-TPC-HBB

Dahua VMS

DSS Express S

Facial Metrics

Facial Metrics

Reporting

Reporting
DH-TPC-BF5421-T THERMAL SENSOR
300 x 400 VOx Uncooled Thermal Sensor Technology
Athermalised Lens, Focus-free
13 mm Fixed Thermal Lens
≤ 40 mK Thermal Sensitivity
DH-TPC-BF5421-T VISIBLE SENSOR
1/2.8-in. 2 MP Progressive-scan CMOS Sensor
8 mm Fixed Lens
Maximum IR Distance 35 m (114 ft)
Black Body Reference
Default calibraton temperature: 35.0 °C
Range: Ambient temp.+5.0 °C to 50.0 °C
Effective radiaton surface: 70 mm x 70 mm
Resoluton: 0.1 °C
Accuracy: +/- 0.2 °C
PC with DSS Express
Regulation Compliance
High Accuracy - up to 98%
Real-time Alarm
Flexible to Deploy
Thermal Image
AI used to determine facial metrics
AI data can be stored for off-line analysis
Visible Image
Body temperature displayed
Real time alarm if too high a temperature
System Reports
There are many charts available
Example bar chart of body temp vs time
System Reports
There are many charts available
Example line chart of body temp vs time
Application
For indoor temperature measurement check points with security personnel on duty, such as passenger stations, airports and other security check entrances where passenger movements are physically controlled with barriers. The thermal camera coupled with the blackbody calibraton device delivers a contactless soluton for contnuous, contactless, and non-invasive temperature monitoring.
In it's most economic form, the solution uses a single thermal camera and high-precision temperature reference at each entrance, and connect to the on-site computer for configuration management
Dahua's DSS Express is an easy to use and reliable VMS, that provides the GUI showing thermal/visible images, facial metrics plus management reporting for off-line statistical analysis
Performance
Safety: Non contact thermography to avoid the risk of cross infection
Speed: The detection time is less than 1 second
Flow: Multiple people can be detected at the same time
Accuracy: the temperature measurement accuracy can reach ± 0.3 °C with blackbody
Setup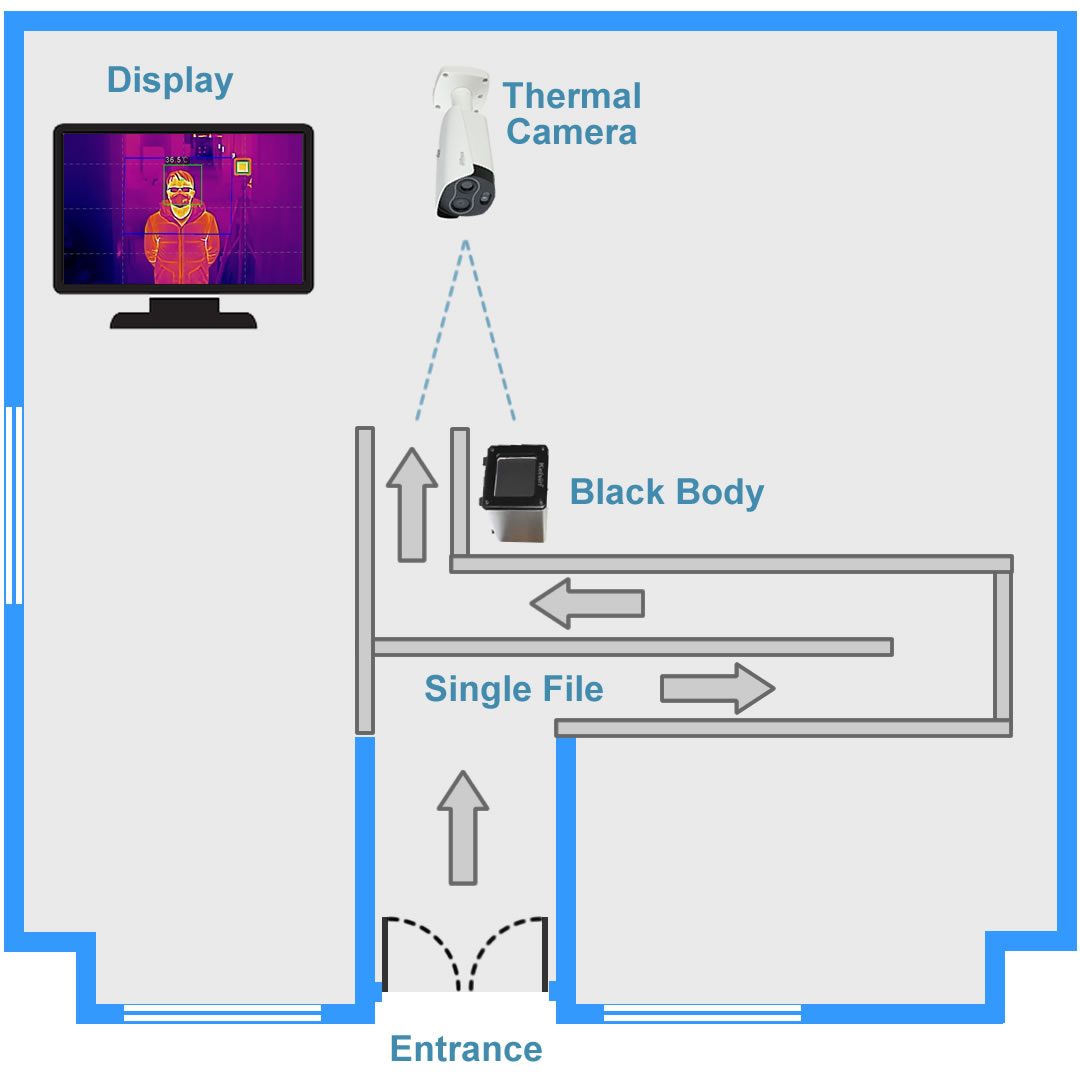 The installation area shall be a relatively isolated and stable environment without wind, avoiding the outdoor or the scene connected with the outdoor. It is not suitable for the environment with air flow or strong electromagnetic interference or vibration.
The installation area shall ensure that the moving direction of the flow of people is facing the camera in a positive direction to ensure that the camera can detect the temperature of the face forehead.
No high temperature heat source or sunlight in the thermal image ,avoid the interference of heat sources such as microwave oven, heater, hot water point, high-power lamp, radiator, etc ,to avoid damage to the detector.
The visible light channel of the binocular camera requires sufficient illumination in the environment and avoids the influence of backlight/reflection/change of strong light/ occlusion, etc.
It is recommended to use the flow direction guide device (protocol bar, etc.) to guide the walking direction of the personnel and control the width of the personnel aisle so that the personnel can face the thermal imaging camera at the best detection position.