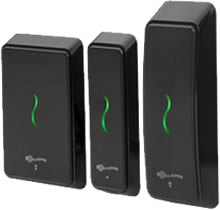 Access Control Overview
Videcom engineers have been installing, maintaining and servicing electronic Access Control systems and solutions for over 25 years. Although experienced on a wide range of equipment including Cotag, Keri, SiPass, Salto and C-Cure we focus new installations to systems from Paxton, Dahua and Gallagher Security.
Access Control can be broken down into 3 key elements, the access token, the locking system and the software. By carefully choosing the correct level of features, the strength of physical security and how you wish to manage card holders and tokens Videcom are able to tailor a solution to meet your exacting requirements.
At Videcom our focus is training, product knowledge, product familiarity and close partner support with our suppliers. This emphasis remains strong through all our services as well as our manufacturer accreditation making Videcom your first point of contact for your access control requirements.