Luxriot EVO
Luxriot: The idea of a well-designed, top-quality and high-performance Video Management Software, brought to customers at the competitive prices, was first developed in 2004 by the finest international team of computer engineers. That is how Luxriot® started.
EVO S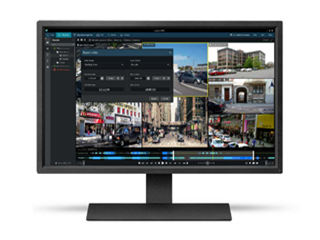 Luxriot Evo S is a new-generation of security and video surveillance software from Luxriot, offering a fast and scalable stand-alone single-server managed IP Video solution that truly answers your security needs.
With all the benefits of the Luxriot security and video surveillance monitoring system core, proven to be high-quality and reliable and now upgraded to the 64-bit Microsoft Windows version, it adds an even more intuitive user interface and better functionality, as well as a long list of new features and supported add-ons..
Videcom have a dedicated Luxriot website where you will find technical support and advanced product information and support.
EVO Global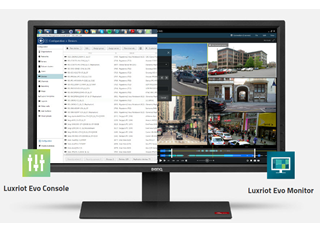 Luxriot Evo Global is a complete IP video surveillance scalable enterprise ONVIF security solution, delivery high quality reliable CCTV and event management across multiple sites and network topologies.
The software has been designed with the tried and tested core of Luxriot VMS, the engine behind the Videcom VNR, the quality and reliability of which has been proven worldwide over the last decade.
The all new faster 64bit evolution of the feature rich software, Luxriot Evo Global®, is the culmination of years of focused concentrated development and testing that delivers users with a flexible diverse enterprise video management solution.
Common Features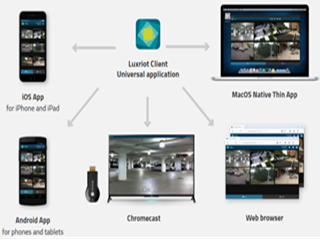 Luxriot EVO S and EVO Global share many common advanced VMS features. So whether your looking to manage, record, view or replay one or 5000 cameras EVO software provides you with a host of easy to use intuitive features, such as GEO Mapping, RTMP Streaming to services such as YouTube, Advanced Event and Actions Management, Support for camera side Video Content Analytics from manufacturers such as i-Pro, Edge Recording support through ONVIF G, Web Server and Mobile Client including Bidirectional video from mobile device.
All these functions and features are all part of the standard paid for software licence; you can also install as many instances of Luxriot Client and management console as you require without additional cost, all great reasons to choose and Buy Luxriot.